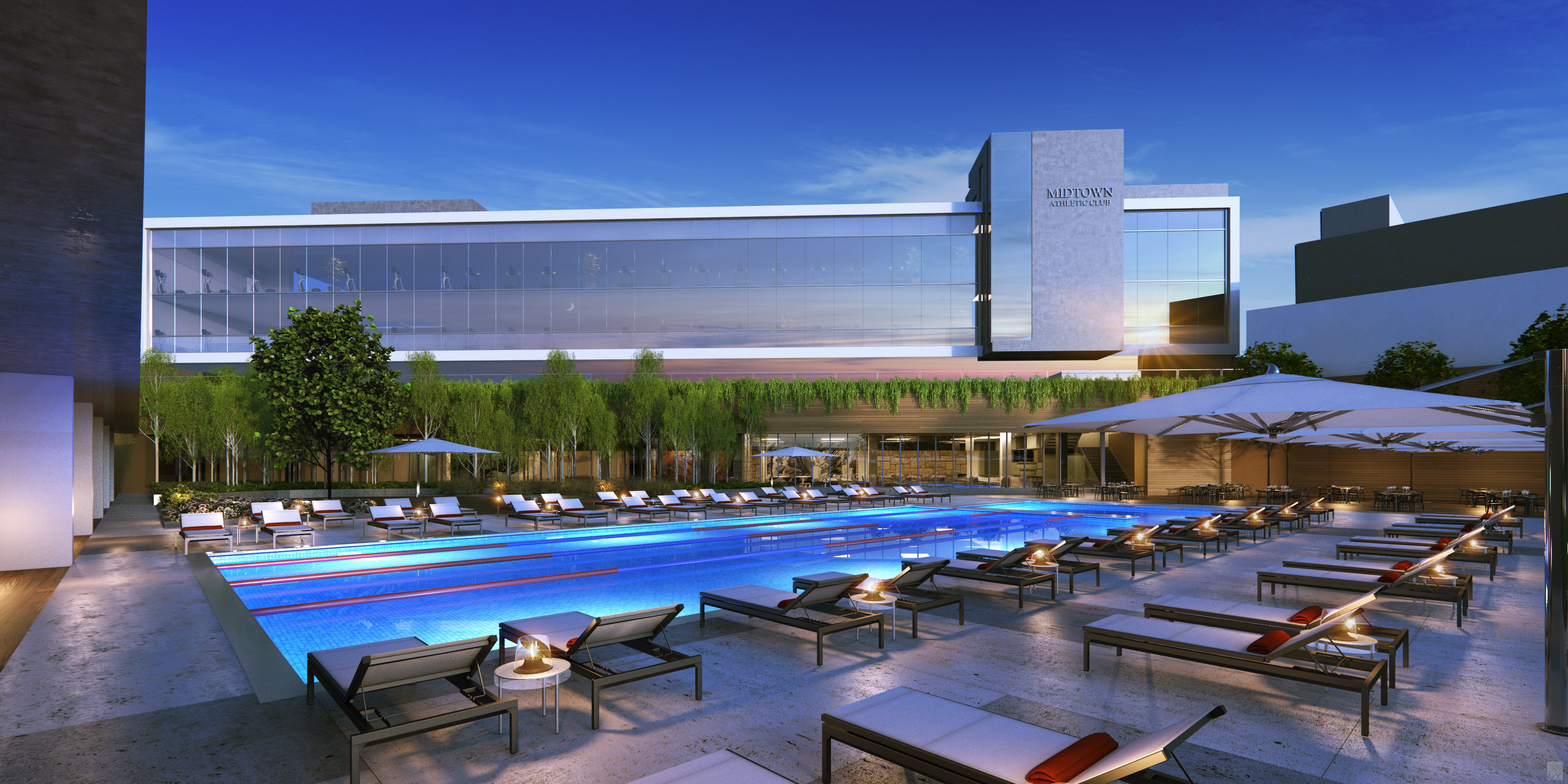 Chicago will once again witness the unveiling of an innovative sports resort this summer. Midtown Athletic Club is gearing up for the grand opening of its new expansion, one that's completely different to anything people have seen in the state – or anywhere else in America. This July, the six-level fitness center on the border of Lincoln Park and Bucktown will launch a boutique hotel within the facility, which highlights its $75 million transformation into a luxury sports resort.
Usually gyms open inside hotels, not the other way around. Thanks to Evanston-based firm, DMAC Architecture, Midtown Athletic Club expanded from 150,000 square feet to 575,000 square feet. It also helps that this famous tennis club's features are redesigned by no less than V Starr Interiors, a company owned and operated by future hall of fame inductee, Venus Williams.
V Starr Interiors is drawing up plans for one of Midtown Athletic Club's four new suites, as well as multiple Olympic-size swimming pools and outdoor decks. One of these open air facilities can and will be transformed into an ice hockey rink during the winter. They also plan to redecorate its tennis lounge – a sport that Venus Williams and Midtown Athletic excel at.
These improvements only add to the legacy of Midtown Athletic Club in Chicago and in the tennis industry overall. Midtown has always been a leader in the world of tennis clubs, with many of its locations integrating innovative technologies into training and playing. All 16 indoor tennis courts at Midtown Athletic Club offer a service called PlaySight. According to tennis site Play Your Court who cover the Chicago area, this is a camera and kiosk system that records each game, providing accurate line-calling, fast live-streaming, and on-the-spot multi-angle video replays. Furthermore, guests will feel like bona fide pros, considering that Midtown offers the most cutting-edge technology to its members and guests to utilize.
Recently, Midtown Athletic Club gave a select few a taste of some of its new amenities. In addition to a boutique hotel, the sports facility expanded its fitness program, giving members a bevy of options available all over the club's first three levels. There will be a studio for strength and conditioning workouts, a 40-foot soccer pitch, and an NBA-level basketball court. It will also have a boxing gym and a Cycle Journey studio, as well as two golf simulators and three squash courts.
Part of Midtown Athletic Club's expansion focuses on the development of young athletes. They'll soon provide specialized fitness options for kids who want to learn the basics of whatever sport they choose. Best of all, the facility plans to have Venus Williams curate their signature tennis program, providing real life inspiration to novice players.
All in all, Midtown Athletic Club truly is a one-of-a-kind sports facility. It covers everything from sports training, to fitness and conditioning, to relaxation and leisure.
Midtown Athletic Club will open on July 15, 2017.
Read More